DVD Vol.6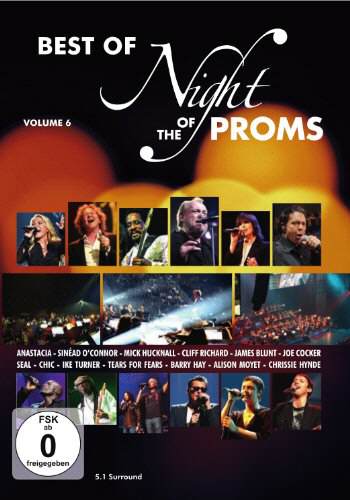 Die 6. DVD der Night of the Proms ist im Herbst 2013 erschienen. 20 starke Konzertvideos wurden für den Proms Sampler zusammengestellt. Den Grundstock der DVD bilden die Konzertjahre 2012 (5 Tracks) und 2011 (4 Tracks). Es befinden sich in Summe 12 bisher unveröffentlichte Konzertvideos auf der DVD. Diese Werke wurden weder als MP3, auf CD oder DVD veröffentlicht!


Kommentar:

Die Highlights: Anastacia, James Blunt, Seal, John Miles, Fine Fleur und die beiden Hymnen von Sinead O´Connor. Leider wurde das Battle zwischen Orchester Il Novecento und Naturally 7, wahrscheinlich aus rechtlichen Gründen, nicht berücksichtigt. Auch Mick Hucknall ist leider mit keinem Hit von Simply Red vertreten.

Weitere Kaufentscheidungen: Die Welthits von Cliff Richard, Joe Cocker, Nile Rodgers und Tears For Fears. Sogar der gefeierte Überraschungsgast Barry Hay in Antwerpen und Rotterdam 2010 ist mit seinem zweiten Werk `When the lady smiles´ dabei. Das Programm von Chrissie Hynde, Barry Hay, Coolio, Ike Turner und Kid Creole ist nun komplett auf den DVDs der Proms zu finden. Mission completed!

Nach den jahrelangen Bemühungen um die Rechte von Sinead O´Connor, ist es den Machern der DVD nun gelungen, gleich zwei Werke aus dem Jahr 2008 auf die DVD zu pressen. Das einzigartige `Troy´ ist eine seltene Perle der Musikgeschichte.


Interessant: Aus dem Jahr 2009 wurde kein weiterer Song veröffentlicht (z.B. Roxette). Auch wesentliche Künstler wie Donna Summer, David Garrett oder Mr. James Brown sind bisher nur einmal auf einer Proms DVD zu erleben. Aus den Jahren 1991 bis 2004 sind auf der 6. DVD nur noch zwei `Oldies´ (Joe Cocker, Chrissie Hynde) zu finden. Der Fokus liegt eindeutig auf die letzten 3 Konzertjahre. Ganze 12 Tracks stammen ausschließlich aus den Jahren nach 2010. Die sechste Ausgabe ist mit 94 Minuten die kürzeste Proms DVD überhaupt.

Leider fehlen weiterhin die ersehnten Songs von The Jacksons, John Fogerty, Grace Jones, Macy Gray, Robin Gibb oder auch Shaggy.
DVD Zusammenfassung Vol.1-6: