DVD Vol.3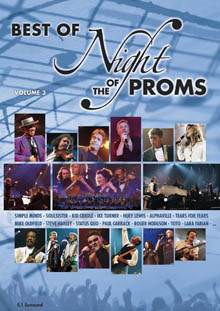 Die dritte DVD der Night of the Proms ist veröffentlicht. Leider ohne die Top Acts 2007 aus Belgien (keine Macy Gray, Kein CHIC).


Der Kommentar:
Die DVD ist wieder vollgepackt mit 20 wunderbaren Titeln. Zum ersten Mal werden auch Künstler mit einem zweiten Titel präsentiert (Roger Hodgson, Simple Minds, Toto, Status Quo, Ike Turner). Fünf Künstler - ein wenig viel Künstler-Wieder- holungen. Zudem vermisst man die belgischen Highlights aus 2007 (z.B. Hauptact CHIC und Macy Gray).
Dafür sind die bisher unveröffentlichten Höhepunkte aus 2007 in Deutschland auf DVD. I Muvrini zaubern mit Paul Michiels (`Fields of gold´) und Paul Carrack versüßt die Scheibe mit dem Generationsklassiker `The living years´.

Ein weiterer Kaufanreiz sind die bisher werder auf CD oder DVD veröffentlichten Werke: Mike Oldfield & Miriam Stockley `Moonlight shadow´, Lara Fabian `Adagio´ und Steve Harley mit dem Titel `Make Me Smile´(`Oldie´-CD 1991). Der Klassiker `Rockin' All Over The World´ wurde bereits auf der DVD `The party ain´t over yet´ von Status Quo veröffentlicht.

Leider wurden bei einigen Künstlern der bereits auf CD bekannte Song präsentiert. Was hätte sich der gemeine NOTP-Fan gefreut, von Alphaville das lang gewünschte `FOREVER YOUNG´ zu hören. Auch Huey Lewis hätte mit `Stuck with you´ oder seinem Medley aus 2002 sicher mehr Akzente setzten können. Toto mit `Can´t stop loving you´ - ein scheinbar unerfüllbarer Traum. Schade!!!

Die DVD ist dennoch ein wunderbares Produkt und wird sich bei den Konzerten gut verkaufen. Auf welchem Datenträger erhält man schon für c.a. EUR 20,- die Legenden Mike Oldfield, Michael McDonald, Ike Turner oder Roger Hodgson.
20 gute Kaufagumente!